Free delivery over $150.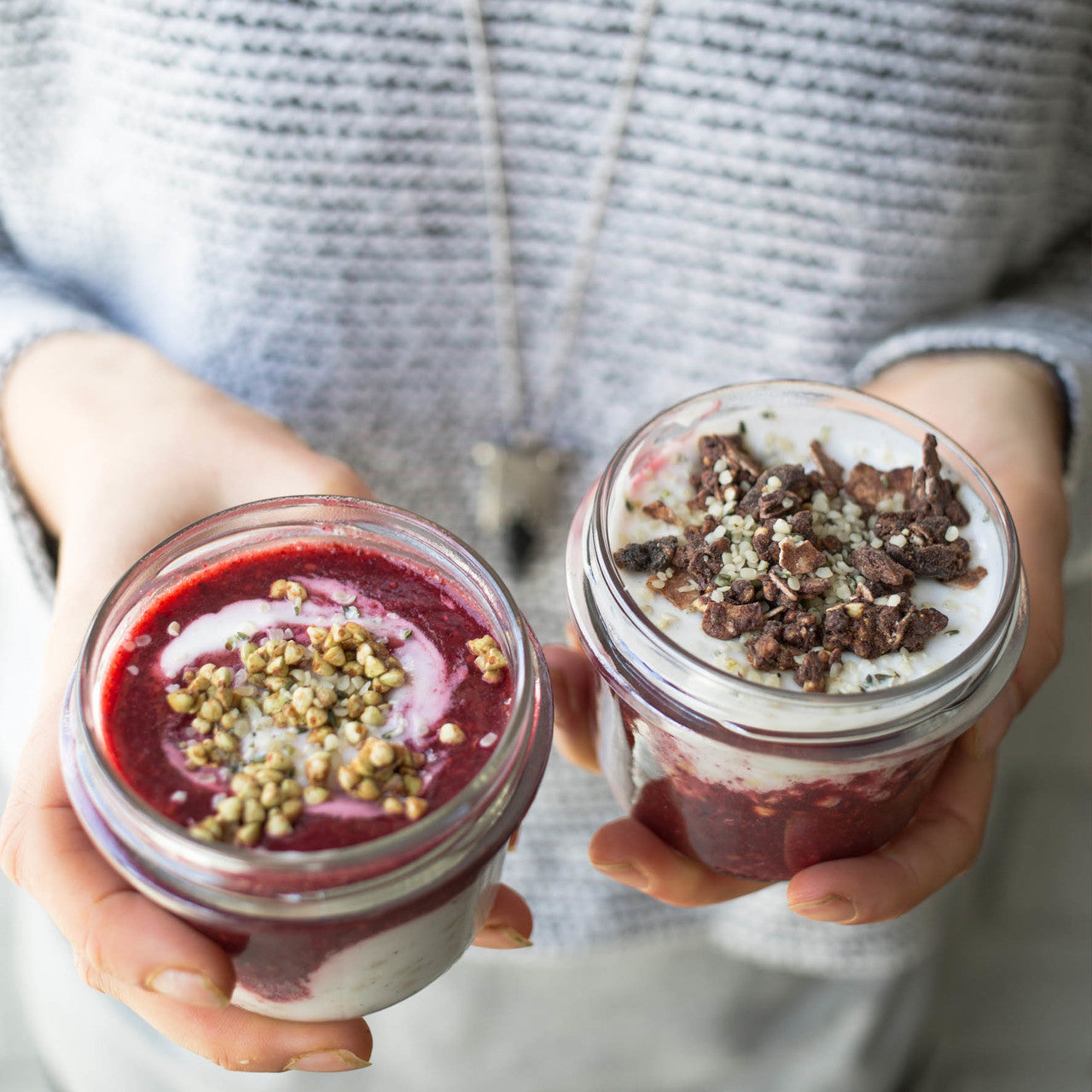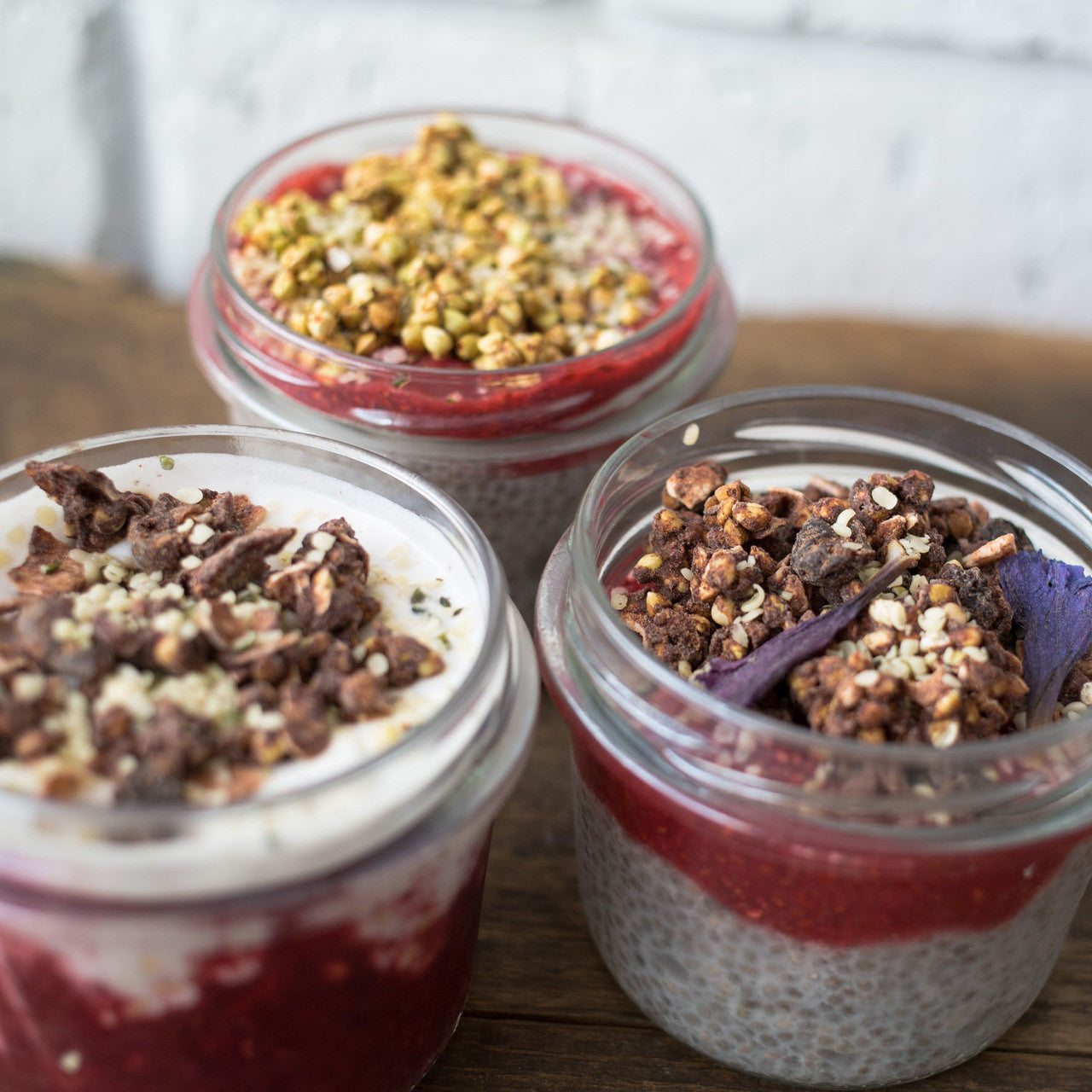 Seasonal Breakfast Jars
Delicious seasonal breakfast pots for the best start to your day.
Our breakfast jars feature highly nutritional ingredients like probiotic coconut yogurt or chia seeds and house-made almond milk, activated buckwheat granola and seasonal fruits.

Plant-Based, Vegan, Gluten Free, Dairy Free.

275ml Jar.
Description
1
#3 - Orange, Carrot, Lemon and Ginger
2
#14 - Chai Nut Milk: Almonds, Dates, Chai Tea, Cinnamon and Filtered Water
3
#4 - Beetroot, Red Apple, Carrot, Ginger, Celery and Lemon
4
Spiced Zucchini, Kale + Broccoli Soup 500ml
5
#2 - Pear, Lemon, Cayenne Pepper and Filtered Water
6
#12 - Green Apple, Zucchini, Spinach, Ginger and Spirulina
7
Pumpkin and Coconut Soup 500ml
Description
Description
On Monday we deliver: Vanilla and strawberry chia pot with chocolate granola.
On Wednesday we deliver: Coyo with activated buckwheat granola and blackberry compote.
Benefits
Benefits
These chocolates are designed to give you a daily dose of probiotics and prebiotics, to balance and support a healthy microbiome.
Icons
- Immunity
- Energy

Ingredients & Nutrition
Ingredients
Vanilla and Strawberry Chia: Chia Seeds, Almonds, Vanilla Power, Strawberry, Maple Syrup and Gluten Free Granola.
Coyo and Buckwheat Granola: Coconut Yoghurt, Red Apple, Buckwheat, Sunflower Seeds, Ginger, Beetroot, Blueberry and Dates.
No preservatives or artificial ingredients.
Nutritional Information
| | | |
| --- | --- | --- |
| Breakfast Jars Chia Seed | Per Serve | Per 100g |
| Energy | 1210kj | 67.2kj |
| Protein | 6g | 3.3g |
| Fat, Total | 17g | 9.4g |
| Saturated | 12g | 6.6g |
| Carbohydrates | 24.3g | 13.5g |
| Sugar | 8.6g | 4.7g |
| Sodium | 18mg | 10mg |
| | | |
NB:  Serves per pack 1
NB:  Serving size 180grams
FAQS
What days do you deliver?
On Mondays and Wednesdays between 4:30 am and 8:00 am. For detailed delivery info please refer to our
delivery page
.
Do you deliver to my suburb?
Please head over to our
delivery page
and check that we deliver to your suburb. We also offer pickups from our
Osborne Park
kitchen.
What Is The Shelf Life On Your Juices?
All our cold-pressed juices are freshly made with no preservatives or pasteurisation, so we recommend consuming your juice within 3 days.