Free delivery over $150.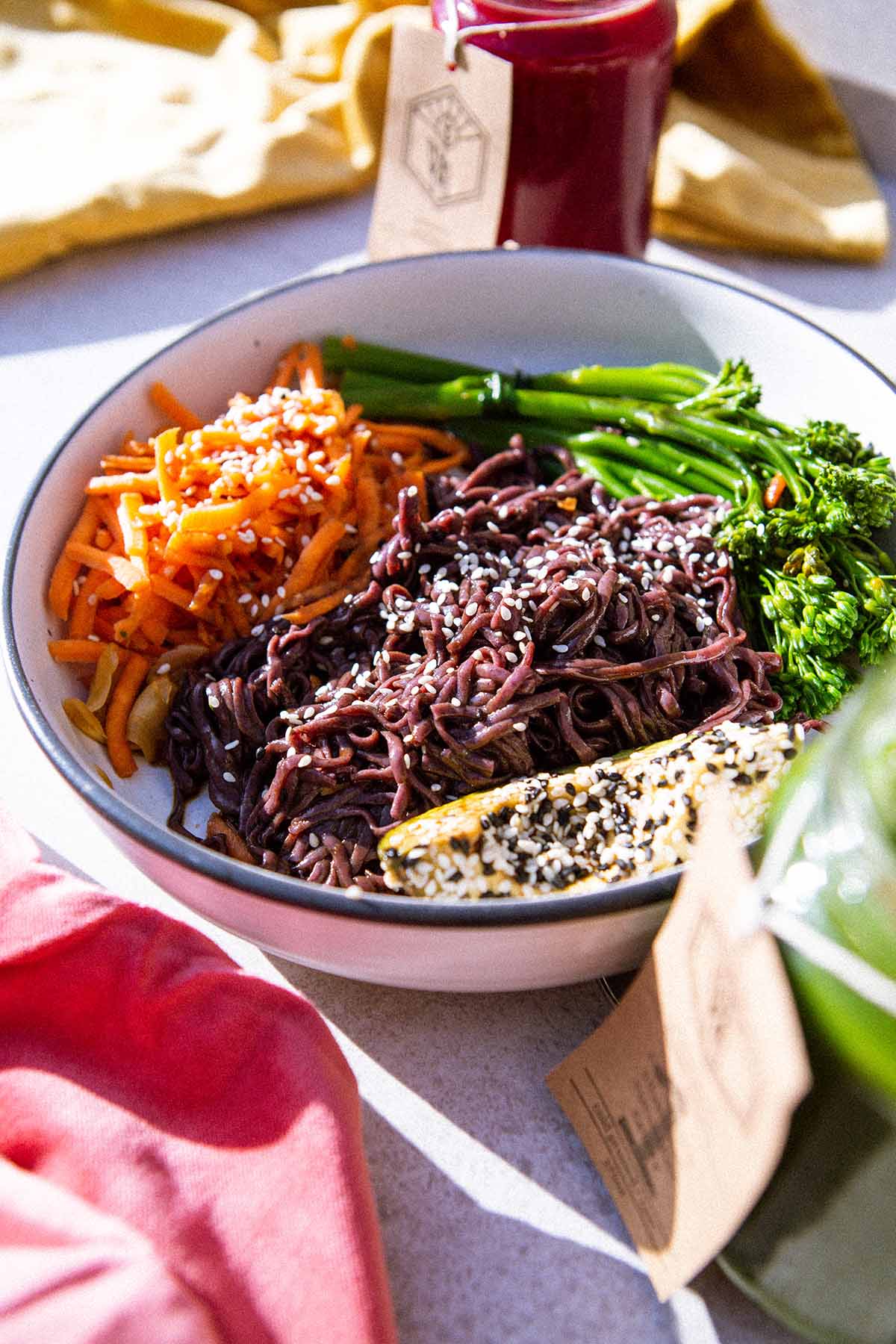 Teriyaki Bowl
Seasonal veggies with black rice noodles and house-made teriyaki sauce.
A big bowl of veggies that is healthy and satisfying, with avocado and black rice noodles. High in antioxidants, minerals and Omega 3 fatty acids. Our teriyaki sauce is made in-house, so you know exactly what we put in (and what we leave out).

Plant-Based, Vegan, Gluten Free, Dairy Free.

350gm
Benefits
1
#3 - Orange, Carrot, Lemon and Ginger
2
#14 - Chai Nut Milk: Almonds, Dates, Chai Tea, Cinnamon and Filtered Water
3
#4 - Beetroot, Red Apple, Carrot, Ginger, Celery and Lemon
4
Spiced Zucchini, Kale + Broccoli Soup 500ml
5
#2 - Pear, Lemon, Cayenne Pepper and Filtered Water
6
#12 - Green Apple, Zucchini, Spinach, Ginger and Spirulina
7
Pumpkin and Coconut Soup 500ml
Description
Serving Instruction
Heat gently, on the stove top is preferred.
Benefits
Benefits
Avocado provides a vegan source of skin-loving Omega 3's and unsaturated fat, plus fibre, B Vitamins, Vitamin C, Vitamin E, Vitamin K and potassium. Healthy fats promote healing and have an anti-inflammatory effect. A rainbow of seasonal vegetables provide a wide range of antioxidants, essential vitamins and minerals for healthy, glowing skin.
Icons
- Antioxidants
- Healthy Skin
- Detox

Ingredients & Nutrition
Ingredients
Black rice noodles, brown rice, broccolini, carrot, cucumber, black sesame seeds, avocado, pickled ginger. Teriyaki sauce: maple syrup, rice vinegar, fresh pineapple juice, tamari, coconut sugar, garlic.
Nutritional Information
| | | |
| --- | --- | --- |
| Teriyaki Bowl | Per Serving | Per 100ml |
| Energy | 1021kj | 443kj |
| Protein | 7.6g | 3.3g |
| Fat, Total | 7.6g | 3.3g |
| Saturated | 2.3g | 1g |
| Carbohydrates | 7g | 3g |
| Sugar | 4.2g | 1.9g |
| Sodium | 145mg | 63mg |
| | | |
NB:  Serves per pack 1
NB:  Serving size 260grams
FAQS
What days do you deliver?
On Mondays and Wednesdays between 4:30 am and 8:00 am. For detailed delivery info please refer to our
delivery page
.
Do you deliver to my suburb?
Please head over to our
delivery page
and check that we deliver to your suburb. We also offer pickups from our
Osborne Park
kitchen.
What Is The Shelf Life On Your Juices?
All our cold-pressed juices are freshly made with no preservatives or pasteurisation, so we recommend consuming your juice within 3 days.
Reviews
Thanks for the delivery Monday, I just wanted to let you know that the red lentil dahl was amazing! It was the perfect size, and very filling. My kids loved it too.